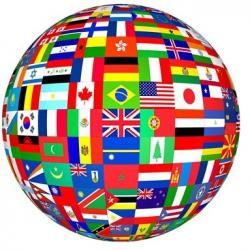 Do you find learning a foreign language boring and frustrating? Forget about the theory and the grammar! Learn to speak from day one!
Trouvez-vous l'apprentissage d'une langue étrangère ennuyeux et frustrant? Oubliez la théorie et la grammaire! Apprenez à parler dès le premier cours!
Trató Ud. de aprender un idioma y se sintió aburrido y frustrado? Olvidese de la teoria y de la gramática! Aprenda a hablar desde el primer curso!
Você acha que aprender um outro idioma é chato e frustante ? Esqueça a teoria e a gramatica !! Aprenda desde a primeira aula !!
Joëlle Baudouin is a professional language teacher who has helped dozens of children and adults learn French and English as a Second Language.
She teaches private and small group classes in South Florida (South Palm Beach/North Broward area). She will customize a French or English program to fit your needs at any level.
Joëlle has a master's degree in English and comparative literature and a passion for languages. She is a bilingual French-English speaker who also speaks Spanish and has studied Mandarin Chinese. She has over 25 years experience teaching.
Contact her for availabilities and prices.